expert reaction to latest data from the ONS COVID-19 Infection Survey
The Office for National Statistics (ONS) have released the latest data from their COVID-19 Infection Survey.
Prof Sheila Bird, Formerly Programme Leader, MRC Biostatistics Unit, University of Cambridge, said:
"Tracking COVID-mention deaths by week of occurrence matters. Registration delays are longer in England & Wales than in Scotland. Also, as shown in my tables below, epidemiological week is defined differently north and south of the border.
"Tables on COVID-mention deaths by week of occurrence should perhaps heed ONS Infection Survey's prevalence estimates some 4+ weeks earlier. Hence in England 0.61% (95% CI: 0.54% to 0.68%) of the population had COVID during 27 June to 3 July 2021 versus: 1.06% (95% CI: 0.98% to 1.15%) during 4 to 10 July; 1.33% (1.25% to 1.43%) during 31 July to 6 August and 1.41% (1.31% to 1.51%), not significantly different, during the most recent report-week of 21 to 27 August 2021.
"For Scotland, the corresponding percentages (with wide 95% confidence intervals) were 1.01% (0.8% to 1.3%) versus: 1.14% (0.9% to 1.4%), 0.53% (0.4% to 0.7%), and 1.32% (1.1% to 1.6%) markedly increased again. Inter alia, Scottish schools returned in mid-August.
"In England & Wales, wave 1 accounted for 52,000 COVID-mention deaths (to nearest 1000), the peak weekly toll having been 8,350 deaths (nearest 10). Wave 2 in England & Wales accounted for 69% more COVID-mention deaths (88,000 to nearest 1000) with a weekly peak of 9,030 deaths (nearest 10). Wave 3 for England & Wales is shown below from mid-June 2021: the occurrence of COVID-mention deaths had not peaked by the week ending 13 August 2021. The Bank Holiday at the end of August 2021 may have further delayed death-registrations.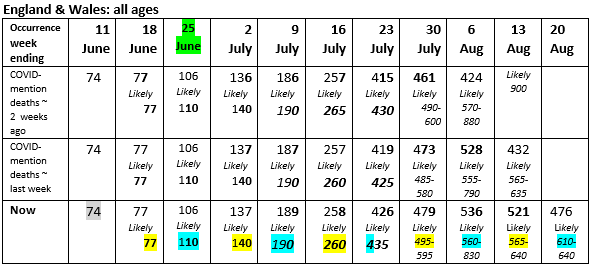 "By contrast, Scotland's peak weekly toll in Wave 1 was 645 versus 490 in Wave 2. Wave 1 in Scotland accounted for 4,200 COVID-mention deaths (nearest 100, but wave 2 for 40% more at 5,900 COVID-mention deaths. Wave 3 for Scotland is shown below from mid-June 2021. NB: Schools break-up earlier in Scotland than in England & Wales. Scotland's COVID-mention deaths may be on the rise again."
Prof Kevin McConway, Emeritus Professor of Applied Statistics, The Open University, said:
"The short-term trends in SARS-CoV-2 infection levels, as estimated in the ONS Covid-19 Infection Survey (CIS), aren't very encouraging, and I suspect they may give an impression of how infection levels are going to behave in the next few weeks or months. The results now go up to the week ending 27 August for England, and 28 August for the other four UK countries (the small difference in dates being for technical reasons to do with the availability of test results). Over the UK as a whole, the ONS estimate of the number of people who would test positive for the virus has changed very little since the previous week. But that disguises different trends in different parts of the UK, with some rises and some falls, that roughly cancel out if the numbers are added up across the whole country. So there isn't a picture of overall rapid increase, as we saw in the spring of 2020, December 2020, and from May to mid-July this year, and there isn't a general decrease, as we saw during national lockdowns. Instead things differ from one place to another. You might expect differences in trends between the different UK countries, because policies on Covid vary between the different administrations, and some important aspects (such as the dates of school terms) differ between countries. But there are also some quite marked differences in trends between different regions of England, where the overall policy should be the same – though it's far from clear to me what the overall strategy actually is in England. I suspect that this pattern of local or regional ups and downs will continue into the future – but behind the mixed short-term trends, the overall level of infection remains pretty high, compared to the levels a year ago or even in April and May this year. Vaccinations mean that the numbers of hospital admission and of deaths remain a lot lower than they were at previous times when infection levels were this high – but in my view they are still high enough to be a matter of concern, and that's without even looking at other important issues such as long Covid.
"Broadly speaking, the short-term trends in different parts of the UK do roughly correspond to the patterns that we've seen recently in the counts of new confirmed cases on the dashboard at coronavirus.data.gov.uk, though there are some differences. It's important to look at the CIS results, even though we have the confirmed case numbers, because the CIS figures are based on a representative sample of people who are tested only to track the progress of the pandemic. The confirmed cases numbers depend on who decided to present themselves for routine testing, and if the numbers being tested or the types of people being tested change, that can introduce biases that don't affect the CIS results.
"In England, ONS conclude that the number of people testing positive was "level" in the most recent week. The estimate is that about 1 in 70 people would test positive, which is the same figure as the previous week. There's a margin of error, as there must be with any estimates based on a sample of people, and this week it runs from 1 in 65 to 1 in 75. The central estimate of 1 in 70 amounts to 766,100 people across England, which is considerably more than the population of the built-up area of Liverpool (about 587,000 according to ONS), and indeed it's more than the population of every town and city in England apart from London and Birmingham. So there's a lot of infection out there. A year ago, 1 in 2,000 people in England would have tested positive, and as recently as early May this year, the estimate was 1 in 1,300, or 40,800 people in all, about the population of Herne Bay or Bishop's Stortford or Leyland.
"In Wales, ONS consider that the trend in the most recent week is "uncertain", but it had been increasing in recent weeks. The estimate for the most recent week is still lower than for England, however, with an estimate of about 1 in 110 people testing positive, or about 28,100 in total across Wales. In Northern Ireland, infection rates fell in the most recent week, to 1 in 65 (28,700 people). That's very welcome after the CIS estimate had reached its highest ever level in Northern Ireland last week – though the estimates and trends in Northern Ireland are not very precise because the number of people tested for the CIS there is relatively small. (The same is broadly true of Wales and to a lesser extent Scotland.). But the infection level in Northern Ireland does remain concerningly high. In Scotland, ONS consider that the infection rate was increasing in the most recent week, as it has been throughout August. In fact the latest estimate, 1 in 75 people testing positive (69,500 across the country), is the highest it has ever been since the CIS began in Scotland last October.
"So we now have three of the four UK countries, all except Wales, with roughly the same proportion of people testing positive (roughly 1 in 70), and one, Wales, where infections are probably less common, but still more than twice as common than they were there just a month ago. And, according to the dashboard and also to death registration figures, we're now experiencing around 100 deaths a day related to Covid-19 across the UK, and the dashboard says there are around 900 hospital admissions of Covid-19 patients every day. Those numbers are much lower than the peaks, but they are still too high for comfort in my view. Continuing vaccination is important, but it's unclear to me what the strategy is apart from that, particularly in England, and particularly in terms of dealing with relatively local outbreaks, such as we've seen recently. I'm concerned that cases might start to rise in England now that schools have reopened – since the reopening was just this week, that can't show up in the latest data that go up only until 27 August. They did rise in Scotland after schools reopened there a few weeks ago, though the rise actually began just before the reopening. There's been discussion of whether the effects of school reopening are because of children mixing more at school, or instead because there's more mixing between both children and adults, not in school, when schools are open. But either way, the reopening might well increase the numbers who are infected, and if that feeds through into considerably more hospitalisations or more deaths, that would be particularly concerning. I'm not going to make a prediction, though – there is a lot of uncertainty, and the variability between different regions and areas means that there are a lot of different possible trends from here on.
"The regional picture in England is also mixed, though it's not easy to interpret regional trends in CIS results. That's because the margins of error are much wider than for the whole of the country, because the number of people tested for the CIS is obviously much smaller in a single region that in the whole of England. ONS consider that there are increasing trends in the South West and the West Midlands, and decreases in London and in the East Midlands, with a less clear picture in the other regions. The position in the South West is interesting, because for long periods it had the lowest infection level of all the English regions, but it is now almost the worst affected, with an estimated 1 in 60 people there testing positive in the most recent week, or about 94,000 people across the region. (The margin of error is 1 in 50 to 1 in 70). ONS estimate an increasing trend in infections there right up to the end of the period covered in the latest release, 27 August. The number of confirmed cases on the dashboard shows a rather different pattern, with a falling number of new cases since mid-August. That difference may be because of some bias in the dashboard counts, or it could be because the ONS estimate counts all infections, not just new ones, and so it changes more slowly after peaks (or troughs) in infection numbers."
https://www.ons.gov.uk/releases/coronaviruscovid19infectionsurveyuk3september2021
All our previous output on this subject can be seen at this weblink:
www.sciencemediacentre.org/tag/covid-19
Declared interests
Prof Kevin McConway: "I am a Trustee of the SMC and a member of its Advisory Committee. I am also a member of the Public Data Advisory Group, which provides expert advice to the Cabinet Office on aspects of public understanding of data during the pandemic. My quote above is in my capacity as an independent professional statistician."